How To Get The Perfect Red Hair Colour
Learn how to colour and protect bright red hair with Schwarzkopf LIVE Colour. We've got everything you need to know about getting red hair and keeping your red shade bright!
Ready for a red-alert!? Discover how to get that fiery red hair that'll keep your 'do glowing or head straight to 1:08 for an easy way to keep your red colour looking fresh between applications!
Advice before you start
When exploring how to dye your hair red, you will find that preparation is key! The results you can achieve will depend a lot on your chosen dye colour, your natural hair colour, your hair type and especially if you already have dyed or bleached hair. Always check the application range on your box of colour to see which natural shades it's suitable for. If your hair is darker than dark blonde/light brown and you want to achieve a really bright red result, you may have to pre-lighten your hair and then use a semi-permanent shade like our LIVE Ultra Brights Pillar Box Red. If you're unsure about which red shade is best for you or if your hair is already dyed, do give the Schwarzkopf Advisory team a call on 0800 328 9214 and an advisor will be happy to discuss your individual needs.
In the video and steps in this article, Hannah is using our LIVE Intense Colour Real Red.
1
Hair Prep
Always read the Instruction Leaflet carefully before you begin and make sure to do an allergy alert test 48 hours before you colour. Grab an old towel to wear round your shoulders and add some petroleum jelly to your hairline/ears to help ensure that it's just your hair that's being coloured! If you have thick hair or hair longer than shoulder length, you will need at least 2 colour packs of red hair colour to ensure even coverage.
2
Mix up your colour
Once you have your in-pack gloves on, it's time to get started. Take the Developer Lotion and add the Colour Cream. Make sure the Developer Lotion lid is screwed on tightly and shake the mixture well. Now you're ready to dye your hair red!
3
Root Re-growth
If you have root re-growth, you'll need to start the application at the roots and leave to develop for 20-30 minutes. Then work the remaining mixture through the mid-lengths/ends, ensuring your hair is fully covered and leave for a further 5-10 minutes.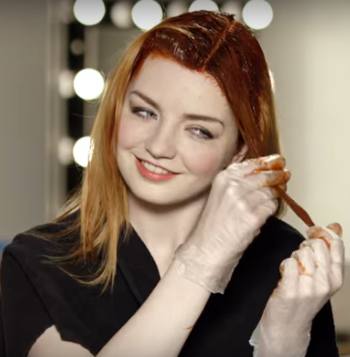 4
Full head colour
If this is your first-time colouring, you'll need to follow the full-head application. Simply apply the colour mixture throughout the whole head of hair, root to tip, ensuring each hair strand is fully covered. When you've done this, wait 30 minutes for the colour to develop.
Rinse
Whichever application method you've followed, when the development time is up, it's time to rinse thoroughly until the water runs clear. Finish off using the in-pack conditioner for vibrant, bright red hair that feels soft and shines!
Keep your red hair from fading
If you find that your red hair colour is fading or you just want to keep your hair looking vibrant between applications, then you can use our Ultra Brights Pillar Box Red to keep your colour looking fresh. All you need to do is mix an equal amount of the Colour Cream with the in-pack conditioner, or our new LIVE Pastel It!. Then apply this to your towel dried hair (after shampooing),leave in for 2 minutes and then rinse it out until the water runs clear.
Vibrant Red Hair
Style your hair and there you have it, perfect bright red locks!