How To Find The Right Hair Colour For You
Are you always looking at new hair colour on Pinterest but keep thinking "what hair colour will suit me best?" or can't decide what colour to go for? Whether you're browsing online or spot an amazing LIVE Colour shade in store, our AR hair colour filters allow you to try on different hair colours in real time - no need to download an app.
1
Shade finder

Our hair colour filter opens automatically when you click on the 'Virtual Try On', button on our homepage. For iOS the preview will only work in Safari.
2
Try on hair colours

Tell us your current hair colour as well as any greys. Then using the colour selection circles, choose the colours you want to try on and see how each shade will look in real time.
3
Your colour recommendation

Based on the information you provide, we'll recommend the best hair dye to meet your needs and where to buy it.
Will this hair colour suit me?
If you're shopping in store and you see a LIVE hair colour that you love but aren't sure it will suit you then don't worry, you can try before you buy! All you need to do is scan the QR code on the front of the pack with your phone and you will be able to virtually try the hair colour on.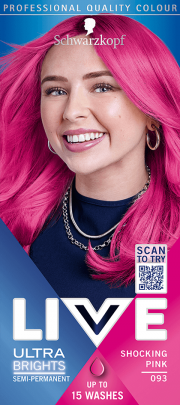 Our Advice
Please note, as we only believe in quality colour for your hair, some colour journeys aren't possible. Our AR hair filter will notify you if this is the case. Our team of Schwarzkopf hairdressers are on hand to give advice and help if you have any questions on what colour you would like to go next.
Give us a call on freephone 0800 328 9214 (UK),1800 535 634 (Ireland),email us at consumer.advisory@henkel.com or ask us on social @livecolouruk
Troubleshooting & FAQs
If you find you can't see yourself in your camera check your browser and or device is fully supported.
For iOS the preview will only work in Safari.
The AR technology is currently supported by the following browsers and operating systems: PC Camera 480p Operating System Windows 7 MacOS High Sierra 10.13 Browser Edge 17 Chrome 64.0 Safari 11.1 Firefox 63 and Sogou 8.5